Eggplant 38 and 39: Baba ganouj and Syrian ganouj
Last week my sister was on holidays so she decided to eat out at Chickpea Lebanese Bar and Restaurant which is in Coorparoo in Brissy. She told me I really needed to check out their menu as it had a great sounding eggplant dish. I'm sold!
So we make plans to go with Timmy on Saturday evening. We first up order the trio of dips and get the Baba ganouj and also the Syrian ganouj. I know right, I've already had a stack of eggplant dips this year, but I have been saving Baba ganouj for near the end and this is as close as it go.

We also got a hommus as well as yummy fresh Lebanese bread. So the Baba ganouj was this smokey yummy eggplant dish and it was so yum. It was really different to Syrian ganouj, which was made with other yummy foods in it. I could really taste the tomato and it really was yum. I would not be able to pic between the two ganouj's so I would probably have to order both next time.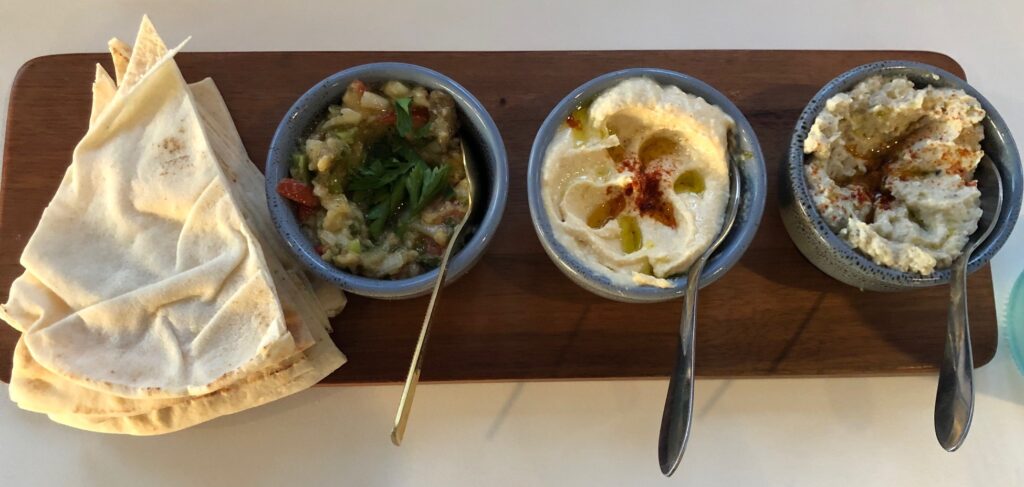 We were given more bread as we went through ours and it was really yum. These dips are worth going back for. Overall I really enjoyed eggplant 38 and 39. But wait, I then got to have eggplant as a main. More on the next blog post.
Oh and did I mention that it was the night of Brisbane Riverfire. So while we were there we got a fantastic view of the super hornet doing a flyover. Always amazing to see (and oh so loud).